Biography
Mark Nassar wrote the screenplay for A Line in the Sand, a film directed by Jeffrey Chernov in which he also had a principal role. In 2008 the film won Best Feature and the Audience Award at the The Santa Monica International Film Festival- Best Feature at The Montana International Film Festival- Audience award at The Bridge Festival in Vancouver and Winner Best Actor at The Naperville Independent Film Festival. It was recently selected for the Santa Fe International Film Festival along with many others. The film is based on his play, The Mayor's Limo.
Mark is the co-creator of Tony n' Tina's Wedding, the longest running Off-Broadway comedy in New York City history. He originated the role of "Tony," when the play debuted in NYC and presented the role in cities across the country including Los Angeles, Chicago, Boston and San Francisco.
Mr. Nassar has written and produced plays, screenplays and is the founder of The Downtown Theatre Club. His theatre company has produced three of his plays, Johnny Boy's Graduation, The Mayor's Limo and Birdy's Bachelorette Party. Mark received a Drama-Logue Award for his performance in The Mayor's Limo, which was nominated for New Best Play at the LA Weekly awards in Los Angeles. It is published by Samuel French.
Mr. Nassar attended the Djerassi Artists Residency in Woodside, California, where he completed a new play, Shouting in the Wilderness.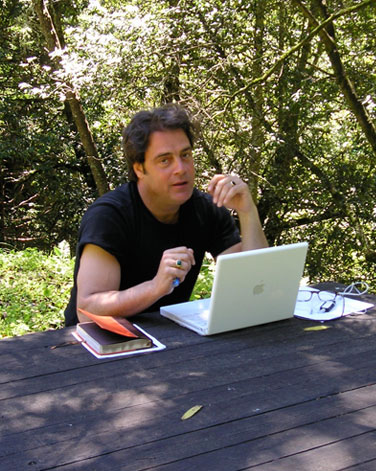 Mark Nassar writing Shouting in the Wilderness at the Djerassi Artist Residency in Woodside California